Good news!
New members are included in THTI's makerspaces
The Torch High Technology Industry Development Center of the Ministry of Science & Technology announced
the list of state-registered makerspaces for 2020
THTI's S&T Innovation Space (Shanxi demonstration area),
THTI Makerspace (Jincheng)
and Changshu Creative Young Community
are newly designed as state-level makerspaces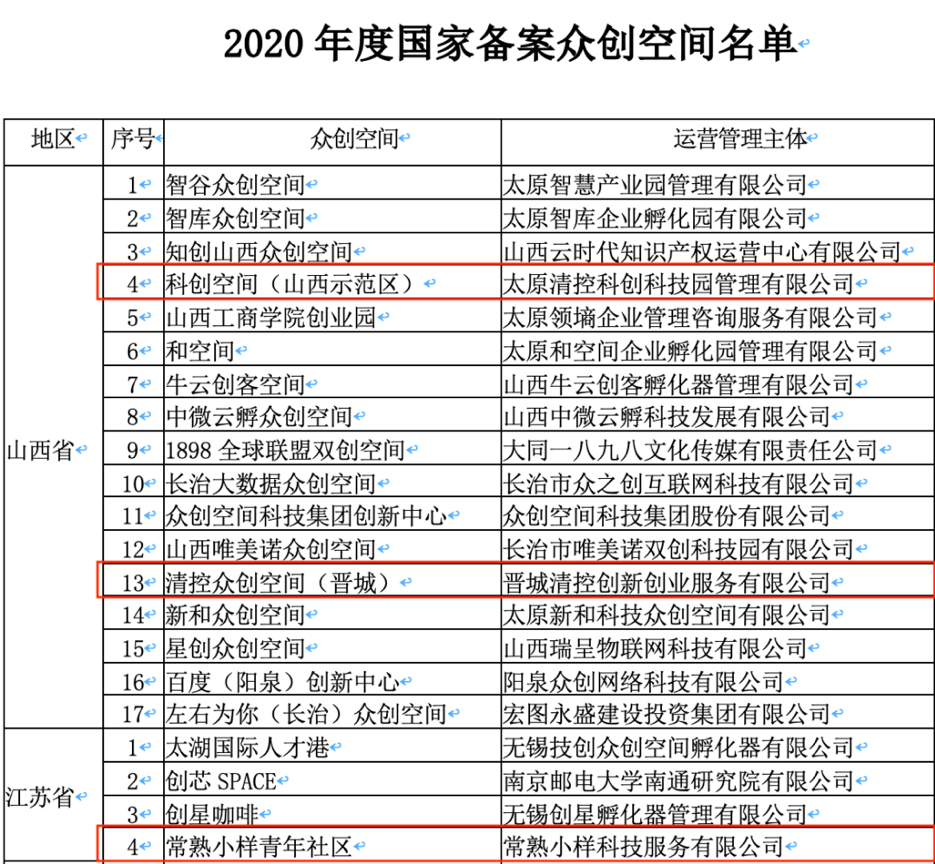 List of makerspaces published on the website of the Torch High Technology Industry Development Center of Ministry of Science & Technology
Here is a brief introduction of these new state-level makerspaces
TPark (Shanxi demonstration area)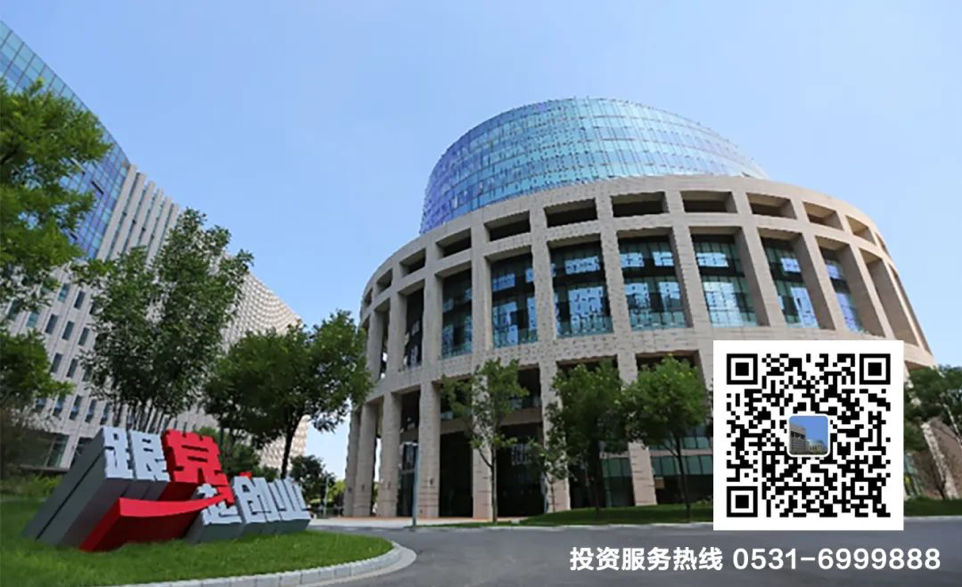 THTI's Innovation Base (Shanxi demonstration area), which is also known as Zhichuangcheng No.1 Base, aims at serving Shanxi's efforts to pursue high-quality development. Focused on strategic emerging industries and energy revolution, the base mainly introduces high-quality innovative and entrepreneurial enterprises, strategic emerging industries, transformations of scientific and technological achievements, top professionals and overseas Chinese returnees, listed companies and corporate headquarters, etc. With the support from all aspects and all its strength, the base will grow into a leading area of technological innovation, a guidance area of industrial upgrading, an enrichment area of talents, an innovative area of financial services, a pilot area of transformation and development and a demonstration area of policy implementation, thus to back up Shanxi Province's innovation, entrepreneurship and high-quality economic growth.

TPark (Jincheng)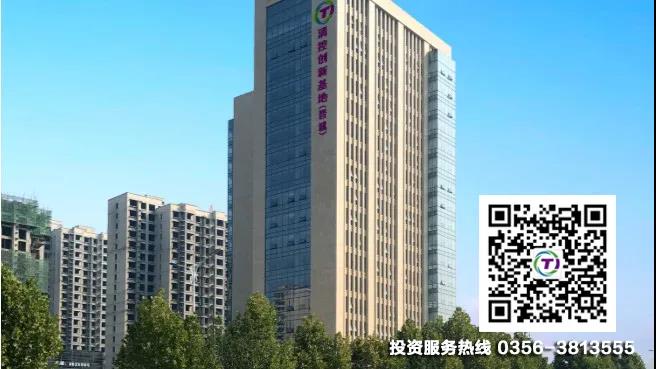 This innovation base, Jincheng-based, Shanxi Province-centered, and the whole country-faced, is principally an incubator of strategic emerging industries in the fields of new materials, new energy and new intelligent manufacturing. Featuring the cascaded space service system of "makerspace + incubator + accelerator + headquarters base" and the comprehensive entrepreneurial service system of "entrepreneurial exchange + entrepreneurial training + entrepreneurial incubation + public service + professional service + venture capital", the base provides enterprises with a high-quality, low-cost, convenient and comprehensive space for entrepreneurship, network, social interaction and resource sharing.

Changshu Creative Young Community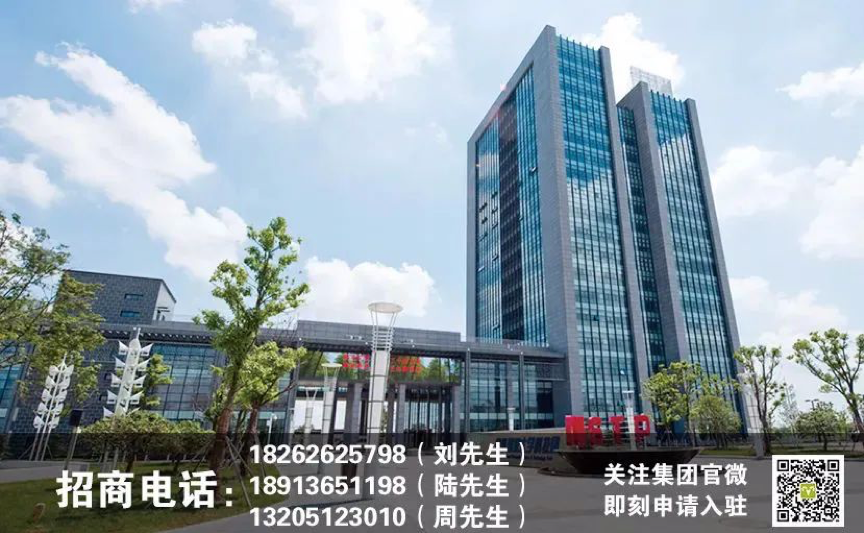 Changshu Creative Young Community is an innovation center in Beijing, which represents the partnership between the municipal government of Changshu and Creative Young Community. As an incubator in manner of an enclave, this Community provides systematic project incubation and talent services for enterprises to promote the growth and stock in Changshu's efforts to pursue entrepreneurship and innovation, helping the enterprises reduce start-up cost, meet technical requirements, connect industrial resources, pool capital resources, develop industrial markets and conduct propaganda. As a platform for the industrial upgrading of local enterprises, Changshu Creative Young Community serves Changshu-based enterprises in Beijing, promoting industrial transformation and upgrading, facilitating the implementation of projects for attracting talents, establishing an ecological chain of hiring professionals from Changshu, and accelerating the industrialization of enclave enterprises in Beijing.

Currently, 22 industrial parks affiliated to THTI have been granted national honors, which include, among others, National High-tech Enterprise, National Science and Technology Business Incubator, National Makerspace, National Excellent Engineering Prize, Entrepreneurship Demonstration Base for National Small & Micro Businesses, National Demonstration Platform for Public Service of SMEs, the first batch of National Youth Entrepreneurship Demonstration Park, National Rural Innovation and Entrepreneurship Park, National Demonstration Base for College Students' Entrepreneurship, Guangzhou Human Resources Service Industrial Park, etc.
Now, THTI is home to 25 national makerspaces, which is the recognition and reward for THTI and its award-winning parks. Going forward, THTI's industrial parks will continue to leverage their resources and talent advantages to provide enterprises with a higher-quality space for innovation and entrepreneurship, offer more opportunities and quality services to entrepreneurs, and inject strong impetus into regional industrial development.